"Traveler" (add your own litter)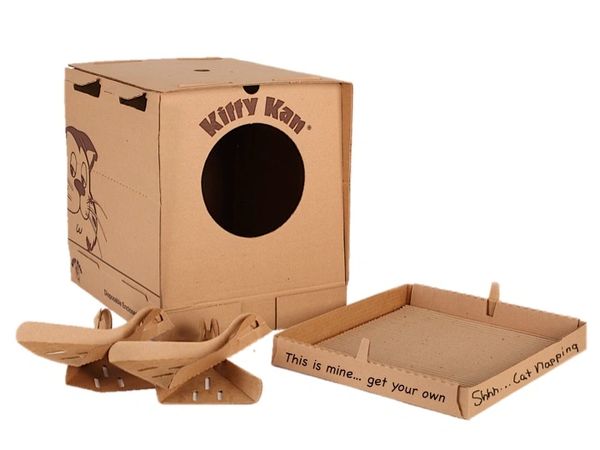 "Traveler" (add your own litter)

Honestly is the best travel litter box you can get. 
Each last an easy 2 weeks. Super sturdy/leak proof. Easy set up and disposal, no touching or dumping nasty litter... Even has locking tabs for secure disposal.  
Entry hole 7.5"  When open 16" L x 13.5" W x 16" H (ships/stores at 3" high) about 2 lbs with bed/scoops

Your pick... 1pk, 2 pk, 3 pk, 5 pk, 8 pk or 13 pk.  Low as $11.99 ea with 13 pk.  See below "bulk item" for details.  
Moisture treated and patented designed for NO LEAKING NO MESS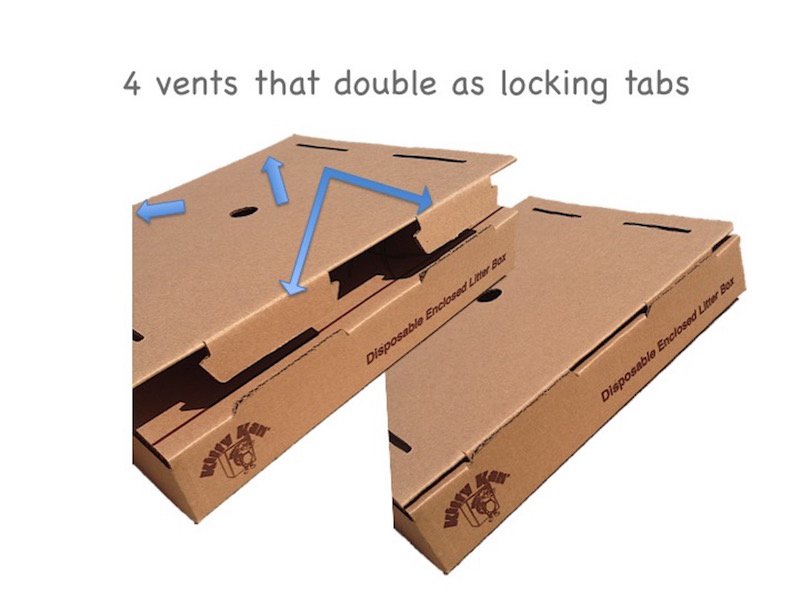 Each lasts an easy 2 weeks or more when scooped regularly 
4 Disposable Scoops  Need more scoops or cat beds... see above drop down option.
A simple but comfy BONUS cat bed, guaranteed to be loved by your cats
Enclosed to prevent litter from being kicked out, privacy to reduce stress, and promotes usage while traveling

Great for travel with cats or when you are away from home and just hate to come home and clean the litter box

Biodegrades in nature

Made from recycled material in the US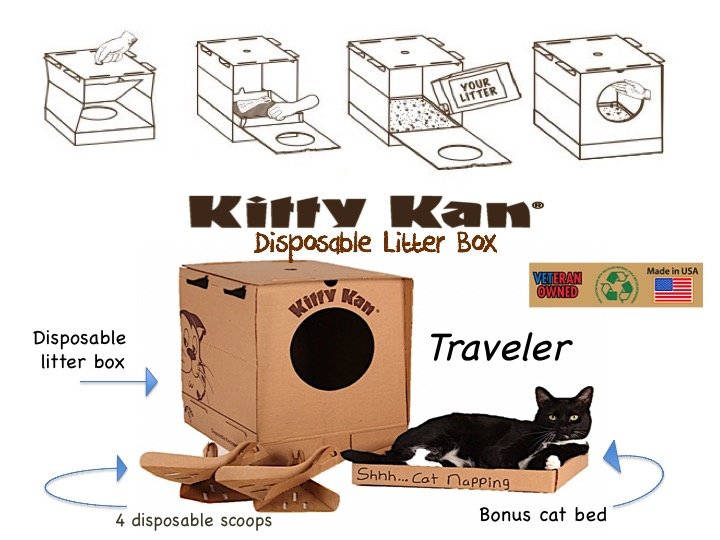 Use at home
- Just think about never having to clean the bottom of the box litter funk out again.  If you have 2 or more cats then you need a second litter box somewhere.  The Kitty Kan fixes that problem too and gives you a mess free "second litter box." 
Traveling with cats- Don't mess up your car/hotel room or trip by using cheap litter boxes. No lugging your old litter box and litter around.  No mess, super sturdy, ENCLOSED disposable litter box that works great on the go... and the Kitty Kan's have 4 locking tabs when closed for secure disposal or moving from place to place. 
*Bulk items- (if you need more scoops or cat beds then go to "add on items")
  1pk, 2 pk or 3 pk Traveler include: The number of disposable litter boxes and 1 bonus cat bed, 4 disposable scoops
  5 pk Traveler include: 5 disposable litter boxes, 2 bonus cat beds, 8 disposable scoops
8pk and 13 pk Traveler  "just the box please"  That's what our friends who have discovered the Kitty Kan lifestyle call it (so we will too) It means just that, "just the boxes" so you get 13 disposable litter boxes (of course if you want a complementary BONUS cat beds or scoops then just let us know in the comment section during checkout) 
Kitty Kan disposable covered litter box, Travel litter boxes.
Reviews
Featured Products