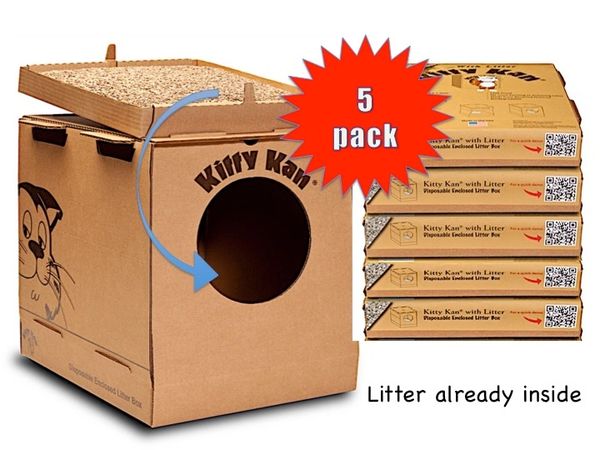 5 pack WITH Litter
Kitty Kan with litter is a super sturdy complete disposable litter box system that will not leak Comes with 100% all natural clay litter that's 99% dust free 

Each lasts an easy 5-7 days (longer if scooped).  Even has Locking tabs for safe/secure disposal.   
Bulk rate of $20.99 ea.  
Save with an 8 pk with litter for only $18.99 ea 
(click here)
 and select 8 pk under "bulk discount"
Designed to be open and closed over and over if moving from hotel to car

Moisture treated and patented design so NO LEAKING 

Litter takes the urine to the padded bottom away from cats paws (so NO walk on pee)

Each lasts an easy 5-7 days

Each 16" L x 13.5" W x 16" H (3" when shipped/closed)   Entry hole is 7" wide  About 7 to 7.5 lbs each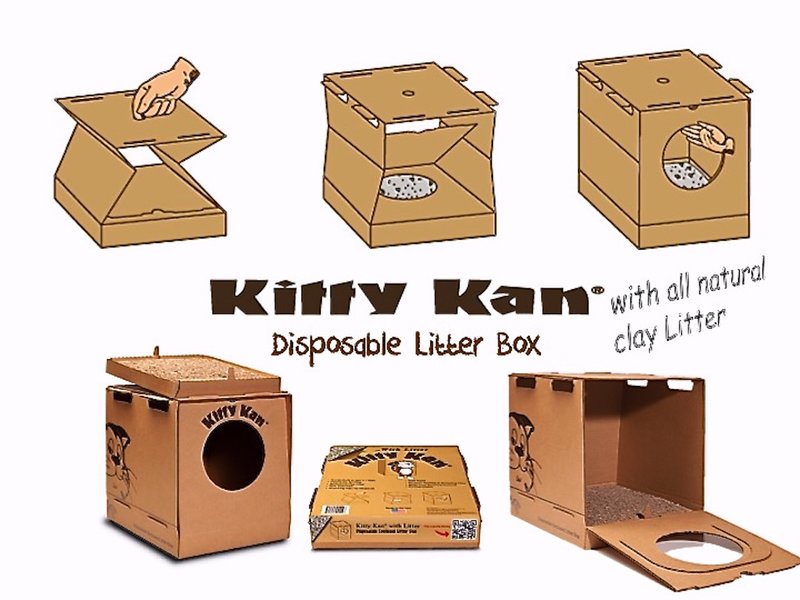 Super sturdy, Convenient, no more bottom of the litter box funk to clean

Travel disposable litter box or when you are away from home and just hate to come home and clean the litter box





Made from recycled material in the USA
Not
 packaged for retail.  We avoid using plastic wrapping. 
Like all clay litter... WARNING! This product does contain ingredients, which are known to the state of California to cause cancer, birth defects, or other reproductive harm. 
Kitty Kan with all natural cat litter included
Kitty Kan Disposable Covered Litter Box with Litter
Reviews
Featured Products